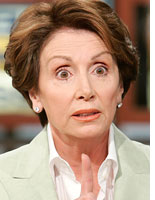 Nancy Pelosi has suffered her first political setback since the election. Democrats
Have voted Hoyer over Murtha
by a 149-86 margin.
In other news, the rest of the Democratic Caucus seems to have retained a bit of their sanity.
The only real surprise is the margin was so lopsided, I expected Pelosi to fare better than that, especially on an anonymous vote.
It will be interesting to see if this result changes the Jane Harman/Alcee Hastings debate. I suspect that Pelosi will want her "pound of flesh" and will take it out against Harman. I also expect a lot more speaking out against this based on the vote tally.
Should be fun. . .