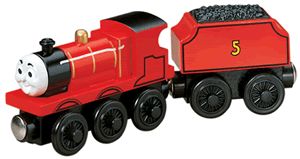 Next week is my son's third birthday. The third birthday is a favorite, because it is the point that you can start introducing your children to toys that Dad likes as well. Being a traditionalist, I actually asked my son what he would like for his birthday. With no hesitation, he told me, "James!"
For those of you with boys under the age of eight, you need no more explanation. For the rest of you, he is referring to a character in the resurgent "Thomas the Tank Engine" line of toys, books, and movies. Trains are quite big nowadays which brings me some measure of satisfaction as a father. Especially as I got to miss the dark days of Barney the Dinosaur altogether. Now if we could just get the Tinkertoy bandwagon rolling. . .
James is a unique engine that combines the snootiness of John Kerry with the physical stature of Ross Perot. His only redeeming quality in most cases is a gleaming coat of red paint, which for some reason is just about unique among the 50 some odd engines that inhabit the fictional isle of Sodor (Skarloey is close, but he is more of a Burgundy). My son already owns Thomas and Percy, who , although are made up of a sterner moral character, are a more common and pedestrian blue and green. For those of you appalled at the lack of depth at my son's Thomas collection, the balance is made up with an investment in
Fisher Price's Geotrax sets
which I consider one of the finest toys ever made for young children. If you are a parent or grandparent looking to score points with young boys, this is the way to go.
Anyhow, on the day my son lets me know about his desire to get "James" for his birthday,
I see this:
Thomas The Tank Engine Recall Update- Thomas The Train Train toys are being recalled due to a possible lead poisoning hazard. RC2 Corp, in cooperation with the CPSC has recalled various Thomas The Tank Engine toys in a voluntary recall on June 13th, 2007.

The recall involves various Thomas & Friends Wooden Railway vehicles and wooden train set components sold at toy stores and other retailers nationwide from January 2005 through June 2007.

The recall involves specific wooden vehicles, buildings and other train set components. Surface paints on the recalled products have been reportedly determined to contain lead. Lead is toxic if ingested and is known to cause severe health problems.
Further articles point out that the lead based paint was manufactured and placed on the items
when they were assembled in China.
China has has a really bad 2007 thus far.
Just to be sure I checked at the local Toys R' Us for further clarification. They assured me that the recall was narrow in scope, and they had plenty of Thomas merchandise available.
Evidently only the red paint is lead based, and relatively few of the trains are red.
I still have a wide variety to choose from.
Unfortunately, even though someone might be able to pass off the burgundy Skarloey as James to me, my son is far more sophisticated in his ability to differentiate the different trains. This would also defeat various repainting options, even if my talent were such as to make that a possibility.
And why, of all colors, did the Chinese screw up the color red?
I've got a week to come up with plan B.